all your
eyebrow dilemmas
will be solved for you by our
Eyebrows with no problem!
Do you have any problem with your eyebrows?
Let's solve it!

Browse through our collection of the most common eyebrow dilemmas and save your arches!!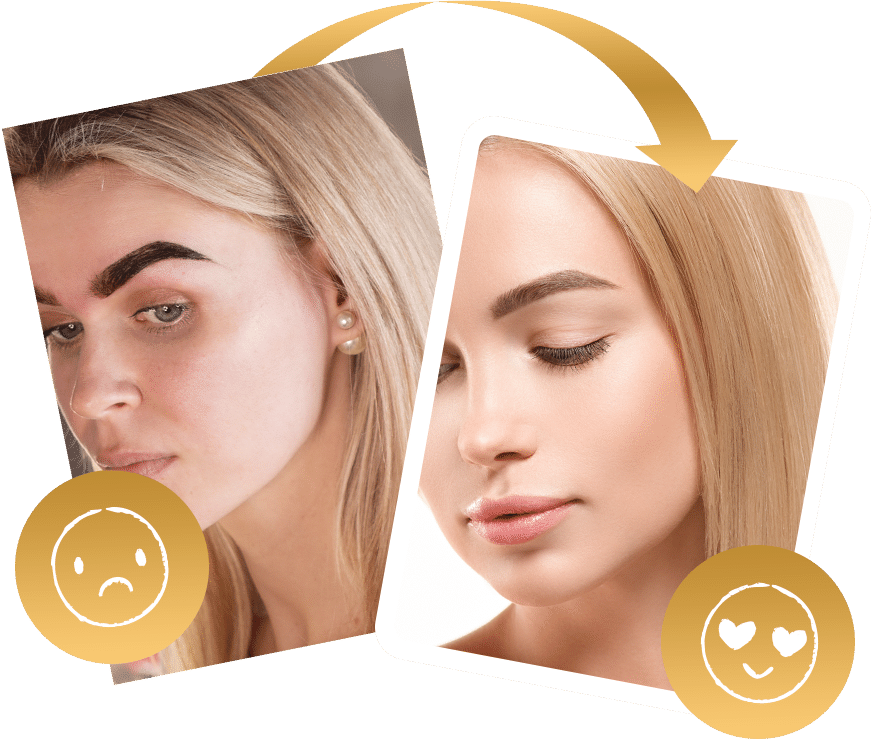 Avoid the wrong choice of the eyebrow tint for your beauty type!
How to choose the right color of eyebrow tint for you?
Blondes and women of light brown hair should choose graphite tint.
Brown tint is recommended for brown and red strands.
Black henna is best for dark-haired people.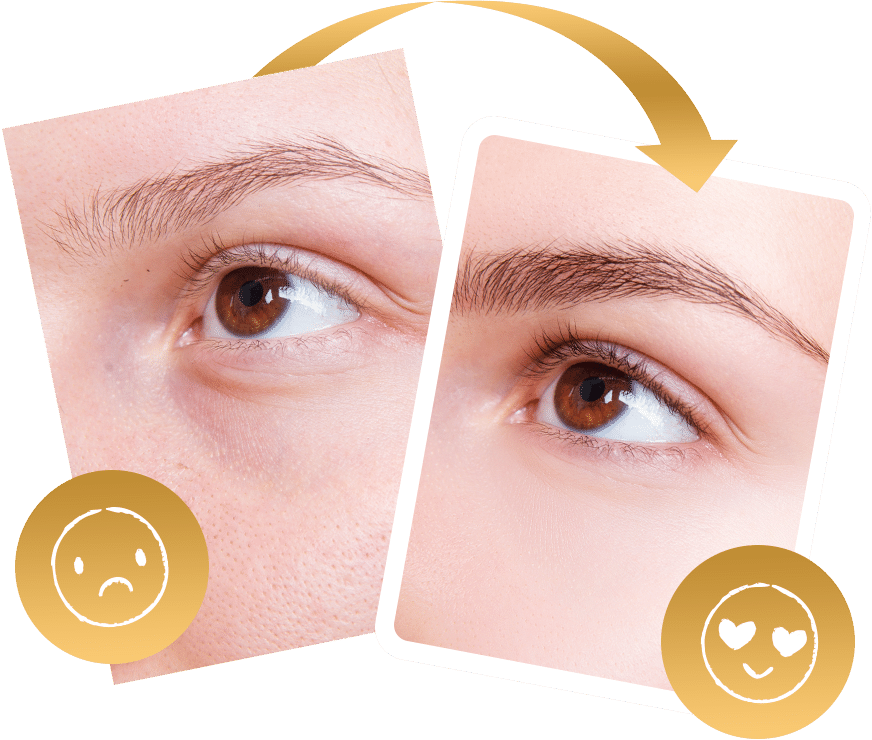 Do your eyebrows lack volume? Don't worry, there are a few tricks!
First – tint, second- daily eyebrow hair care, e.g. with Delia Cosmetics eyebrow and eyelash growth serum with keratin.
Third, everyday makeup. The pen marker will be an excellent choice, as it will allow you to achieve a natural effect of additional eyebrow hair.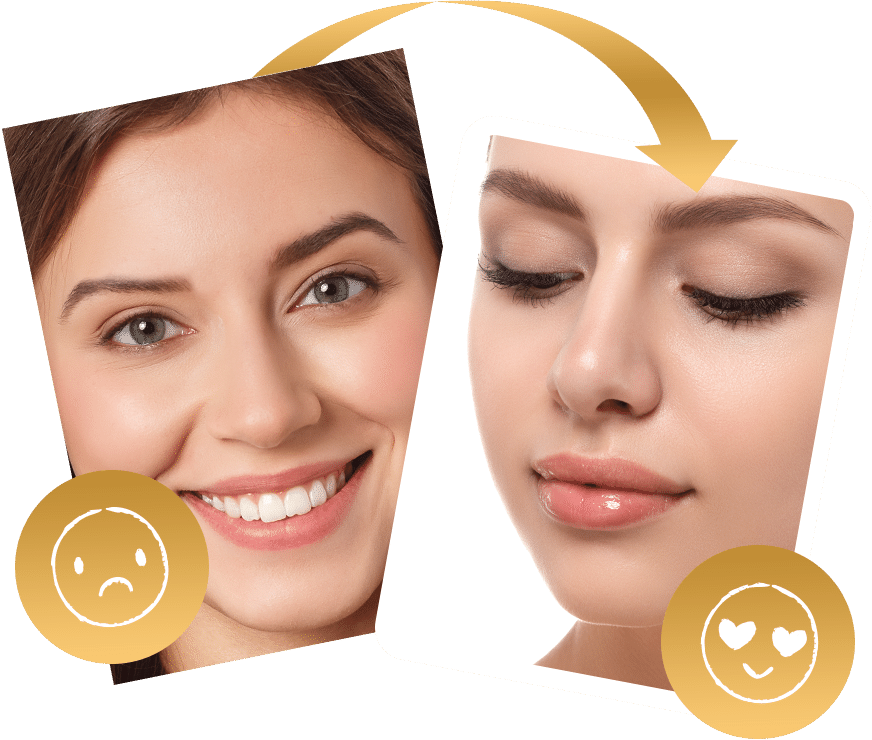 It's a matter of nature, don't try to change them by force!
Our entire face is not 100% symmetrical – this also applies to our eyebrows.
Trying to align them by force may result in plucking out too many hair.
A better solution is use a pen marker for eyebrow makeup and try to add extra hair where needed.
Does your hair naturally grow between your eyebrows, above the nose bridge, connecting your eyebrows into one?
If so, waxing is the best way to get rid of stubborn hair.
You will be guaranteed that the hair will not appear for a longer period of time, and over time it will stop growing back there.
Please remember not to overdo it and not to pluck your eyebrows too much because it will look unnaturally!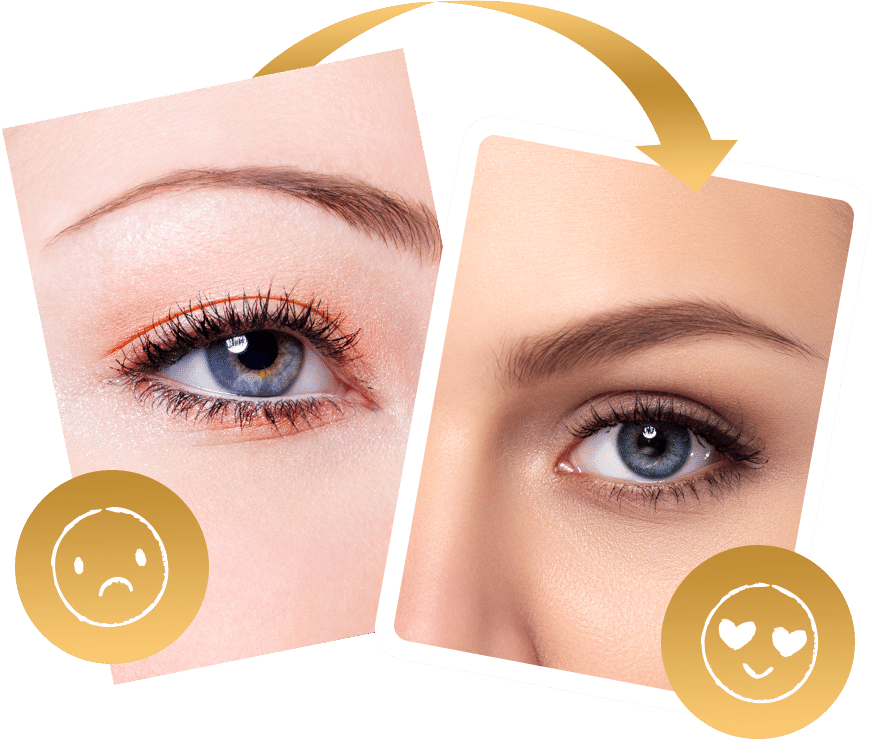 OH, NO! I GOT CARRIED AWAY WITH EYEBROW PLUCKING.
The adventure with tweezers didn't end well for you?
If you decide to pluck your eyebrows yourself, mark the contours of your arches with a crayon and under no circumstances pull any hair above this line. If something went wrong and your eyebrows now have gaps, smooth them out with the eyebrow pomade.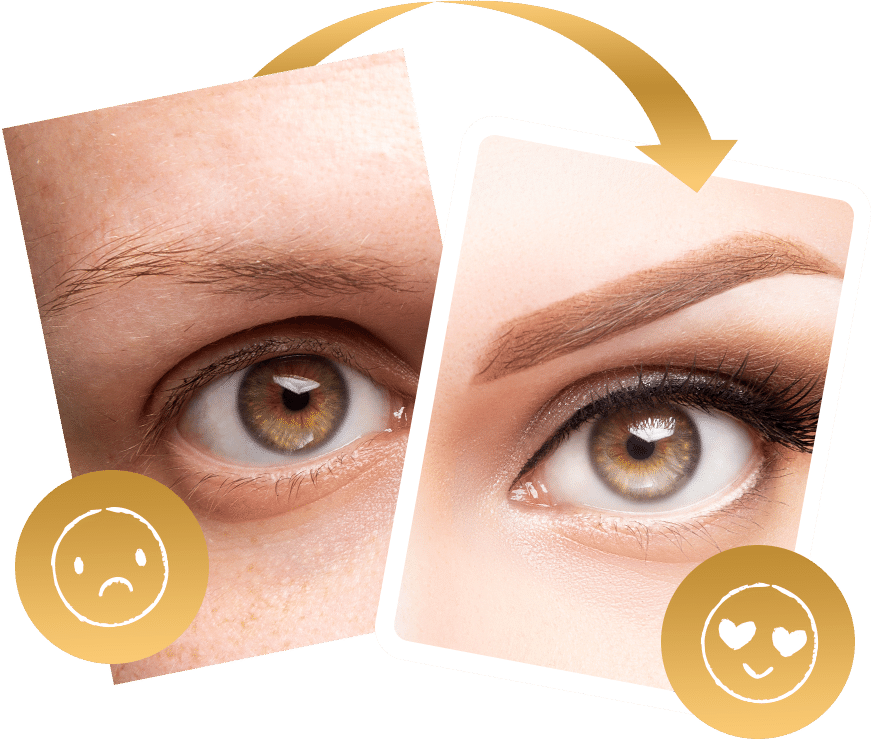 Are your eyebrows naturally very light? Accentuate them and give your face an expression!
If your eyebrows are naturally so light that they are almost invisible – colouring them with any of our eyebrow tints is the best solution for you.
Remember to match the colour of the tint with the colour of your hair. You can also accentuate your eyebrows with everyday make-up products.
The Eyebrow Mascara is ideal.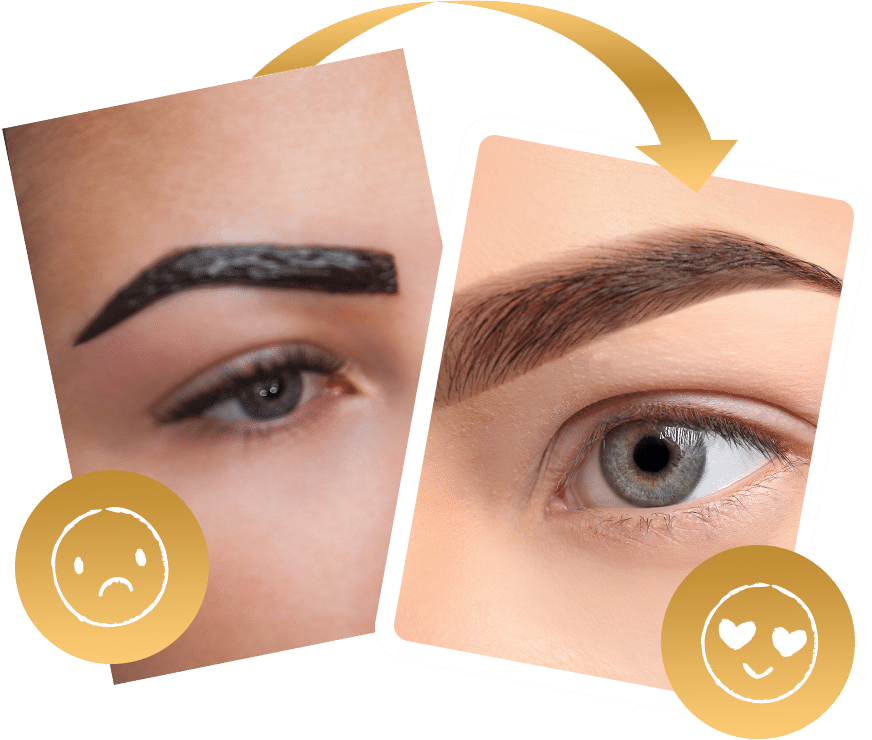 THE HENNA TURNED OUT TO BE TOO DARK.
Did you put the tint on and take a nap? You can easily weaken the intensity of the colour!
If your eyebrow colouring turned out too strong, use soap and water.
Dampen cotton pad with water, put a little soap on it and rub your eyebrows gently. You can also  use a make-up remover instead of a soap.
The colour will certainly become less intense.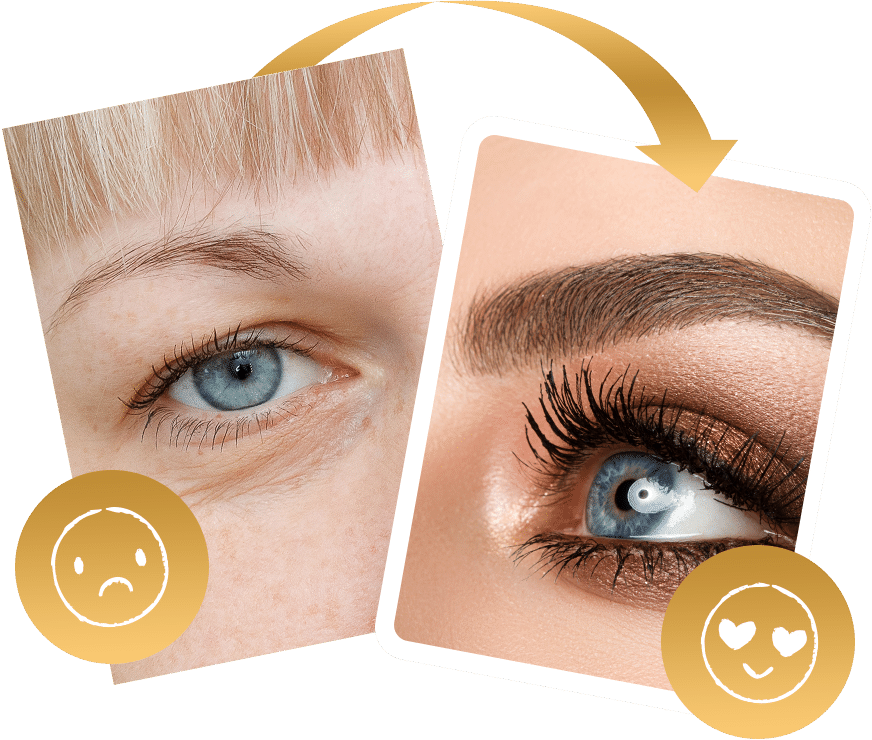 YOUR EYEBROWS ARE TOO SHORT!
Are your eyebrows short by nature or have you plucked them too much? Fix it!
The ideal brow should start at the inner corner of the eye and end at the outer corner.
If your eyebrows are too short – grow them. Use a keratin conditioner and correct the appearance of the arches with eyebrow make-up on a daily basis, e.g. with a pen marker to give the effect of extra hairs.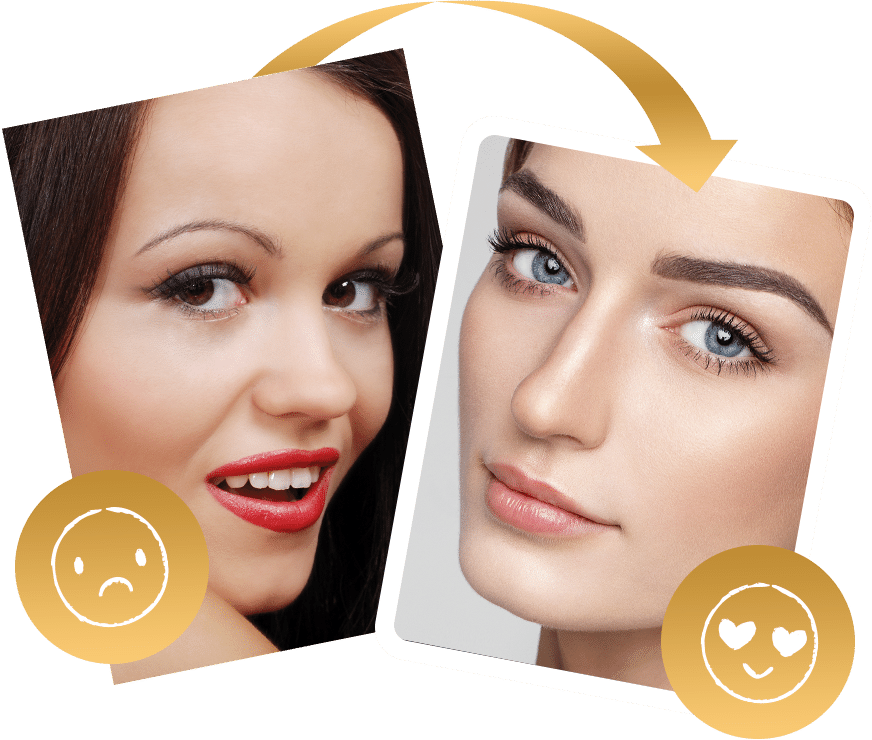 MY EYEBROWS DON'T SUIT ME!
Do you feel like there's just "something wrong" with your eyebrows?
The unsuitable eyebrow shape can give the impression that there is something wrong with our face.
To find the perfect eyebrow shape, you need to diagnose your face shape and, based on this, choose the perfect eyebrows for you.
How do you do this? Read all about it in our free e-book!
Are your eyebrows so long and thick that they go far beyond the arch?
You need to remember to trim them – and do it gently. If you trim them too short, it can result in gaps in the eyebrows.
To tame very thick hair, you can also use a fixing, colourless gel-fixer to set your eyebrows and keep them in place for up to 24 hours.
Our Eyebrow Experts will give you the answer as soon as possible!


"Eyebrow Expert's Guide"!
Podaj adres email na który otrzymasz link do pobrania darmowego poradnika.